Exploring Visual Culture of COVID-19 Memes: Russian and Chinese Perspectives
Keywords:
visual language, ethnic and cultural peculiarities, Chinese, Russian, cultural paradigm, digital memes, COVID-19
Abstract
The article explores COVID-19 related Internet memes and treats them as samples of creolized text in a study of the way ethnic and cultural peculiarities of memes are perceived by representatives of two radically different cultural paradigms: the Russians and Chinese. A survey is used as a method of the investigation. Russian and Chinese students, and visual arts experts evaluated Russian and Chinese COVID-19 memes according to several criteria concerning their content, verbal constituent element and visual characteristics. The study concluded that the social and culture-specific components mostly contribute to forming the opinion of the meme and its appreciation. Awareness of both the cultural background and the current social and nation-specific situation is required to decode a full amount of information contained in a meme. Equally important is the visual component in understanding the meme. Thus, the study contributes not only to studying event-specific memes but also broadens the scope of research on memes as a sample of visual culture.
References
Aiello, G., & Parry, K. (2019). Visual Communication: Understanding Images in Media Culture. SAGE Publications.
Arnheim, R. (2004). Art and visual perception. University of California Press.
Barthes, R. (1977). Image-music-text. Fontana.
Batibo, H. M. (2009). The inter-cultural dimension in the use of languages of wider communication by minority language speakers. Journal of Multicultural Discourses, 4(2), 89–102.
Blackmore, S. (1999). The Meme Machine. Oxford University Press.
Brodie, R. (1996). Virus of the Mind: The New Science of the Meme. Integral Press.
Castaño, D. (2013). Defining and Characterizing the Concept of Internet Meme. Revista CES Psicología, 6(2), 82-104. DOI 10.1177/2167479515584045.
Chaoqun, X., & Ziran, H. (2007). 谢朝群,何自然. 语言模因略说. 现代外语 [A Brief Introduction to Language Memetics]. Modern Foreign Languages, 1, 30-39. 0.3969/j.issn.1003-6105.2007.01.004.
Davison, P. (2012). The Social Media Reader. New York University Press.
Dunas, D., & Vartanov, S. (2020). Emerging digital media culture in Russia: modeling the media consumption of Generation Z. Journal of Multicultural Discourses, 2, 186-203. DOI 10.1080/17447143.2020.1751648.
Fang, Zh., & Haochen, G. (2020). 张放, 浩辰.疫情心理时空距离对公众情绪的影响研究——基于新冠肺炎疫期微博文本面板数据的计算分析[J].新闻界 [On the Influence of Temporal and Spatial Distance from Epidemic on Public Sentiment: A Computational Analysis Based on Panel Data of Web Text about COVID-19]. Journalism and Mass Communication Monthly, 6, 39-49. DOI 10.15897/j.cnki.cn51-1046/g2.20200514.017.
Holbrook, T.L., Hoyt, D.B., Coimbra, R., Potenza, B., Sise, M., & Anderson, J. P. (2005). High rates of acute stress disorder impact quality-of-life outcomes in injured adolescents: mechanism and gender predict acute stress disorder risk. Journal of Traumatic Stress, 59, 1126–1130. DOI 10.1097/01.ta.0000196433.61423.f2.
Iloh, K. (2021). Do it for the culture: The case for memes in qualitative research. International Journal of Qualitative Methods 20. DOI 10.1177/16094069211025896.
Itten, I. (2020). Iskusstvo cveta [The art of color], Aronov.
Jieling, Ch., Xinchun, W., Panpan, Z., Xiao, Z., & Guoyu, X. (2014). The relationship between PTSD and PTG: evidence from longitudinal study of teachers survived in Wenchuan earthquake. Psychological Development & Education, 30, 75–81. DOI 10.16187/j.cnki.issn1001-4918.2014.01.010.
Kang, L., Li, Y., Hu, S., Chen, M., Yang, C., Yang, B., & Liu, Z. (2020). The mental health of medical workers in Wuhan, China dealing with the 2019 novel coronavirus. The Lancet Psychiatry, 7(3), e14. DOI 10.1016/S2215-0366(20)30047-X.
Kartashova, E., & Akhmedzianova, A. (2019). Internet-mem kak osnovnoy vid kreolizovannogo teksta v samoprezentatsii «cheloveka govoryashchego» [Internet-meme as the basic type of creolized texts in self-presentation of «creative human»]. Vestnik Mariiskogo universiteta [Mari State University Bulletin], 3(35), 426-430. DOI 10.30914/2072-6783-2019-13-3-426-430.
Kress, G., & van Leeuwen, T. (2020). Reading Images. The Grammar of Visual Design. (3rd Edition). Routledge.
Kristeva, J. (1980). Word, Dialogue, and Novel. Desire in Language: A semiotic Approach to Literature and Art. Columbia University Press.
Lobodanov, A. (2013). Semiotika iskusstva [Semiotics of Arts]. Izdatel'stvo Moskovskogo universiteta.
Manovich, L. (2017). Theories of Software Culture. Krasnaya lastochka.
Manovich, L. (2020). Cultural Analytics. MIT Press.
Pestova, M., & Safonov, E. (2020). Pandemiya novogo desyatiletiya: osveshchenie temy koronavirusa v SMI. Mediasreda, 1, 166-172. DOI: 10.24411/2070-0717-2020-10136.
Shi-xu. (2009). Reconstructing Eastern paradigms of discourse studies. Journal of Multicultural Discourses, 4(1), 29-48. DOI 10.1080/17447140802651637.
Shi-xu. (2014). Chinese Discourse Studies. Palgrave Macmillan.
Shi-xu. (2016). Cultural Discourse Studies through the Journal of Multicultural Discourses: 10 years on. Journal of Multicultural Discourses, 11(1), 1-8, DOI 10.1080/17447143.2016.1150936.
Shifman, L. (2013). Memes in a digital world: Reconciling with a conceptual troublemaker. Journal of Computer-Mediated Communication, 18, 362–377.
Shifman, L. (2014a). Memes in digital culture. MIT Press.
Shifman, L. (2014b). The cultural logic of photo-based meme genres. Journal of Visual Culture 3(13). DOI 10.1177/1470412914546577.
Shomova, S. (2018). Memy kak oni est' [Meme as they are]. Moscow: Aspekt Press.
Smirnova, O., Denissova, G., Svitich, L., Lin, Ch., Steblovskaia, S. (2020). Psychological and Ethnocultural Sensitivities in the Perception of COVID-19 Memes by Young People in Russia and China. Psychology in Russia: State of the Art, 13(4), 148-167. DOI 10.11621/pir.2020.0410.
Sorokin, Ju., & Tarasov, E. (1990). Kreolizovannye teksty i ikh kommunikativnaya funkciya [Created Texts and their Communicative Function]. Azbukovnik.
Tao, J.H. (2006). Influence of acute psychological stress and exercise stress on the changes of immune function. Chinese Journal of Clinical Rehabilitation, 10, 126–128.
Vartanova, E. (2019). Russian media change as a cultural process. European Journal of Communication, 34(2), 205-210. DOI 10.1177/0267323119838088.
Vartanova, E., & Gladkova, A. (2020). Old and new discourses in Emerging States: communication challenges of the digital age. Journal of Multicultural Discourses, 15(2), 119-125. DOI 10.1080/17447143.2020.1780244.
Vartanova, E., Cherevko, T., Tolokonnikova, A., & Dunas, D. (2019). Changing patterns of digital news consumption among Russian journalism students. World of Media. Journal of Russian Media and Journalism Studies, 1, 7–31. DOI 10.30547/worldofmedia.1.2019.1.
Vartanova, E., Gladkova, A., Lapin, D., Samorodova, E., & Vikhrova, O. (2021). Theorizing Russian model of the digital divide. World of Media. Journal of Russian Media and Journalism Studies, 1, 5-40. DOI: 10.30547/worldofmedia.1.2021.1
Wiggins, B.E. (2019). The discursive power of memes in digital culture: ideology, semiotics, and intertextuality. New York: Routledge.
Wiggins, B.E., & Bowers, G.B. (2015). Memes as Genre: A Structural Analysis of the Memescape. New Media & Society, 17(11), 1886-1906. 10.1177/1461444814535194.
Xiao, Zh., & Benxian, Y. (2020). Social support and acute stress symptoms (ASSs) during the COVID-19 outbreak: deciphering the roles of psychological needs and sense of control. European Journal of Psychotraumatology, 11(1), 1-8. DOI 10.1080/20008198.2020.1779494.
Yunhui, Zh. (2010). [Research on Internet Language Grammar and Pragmatics]. Xuelin Publishing House.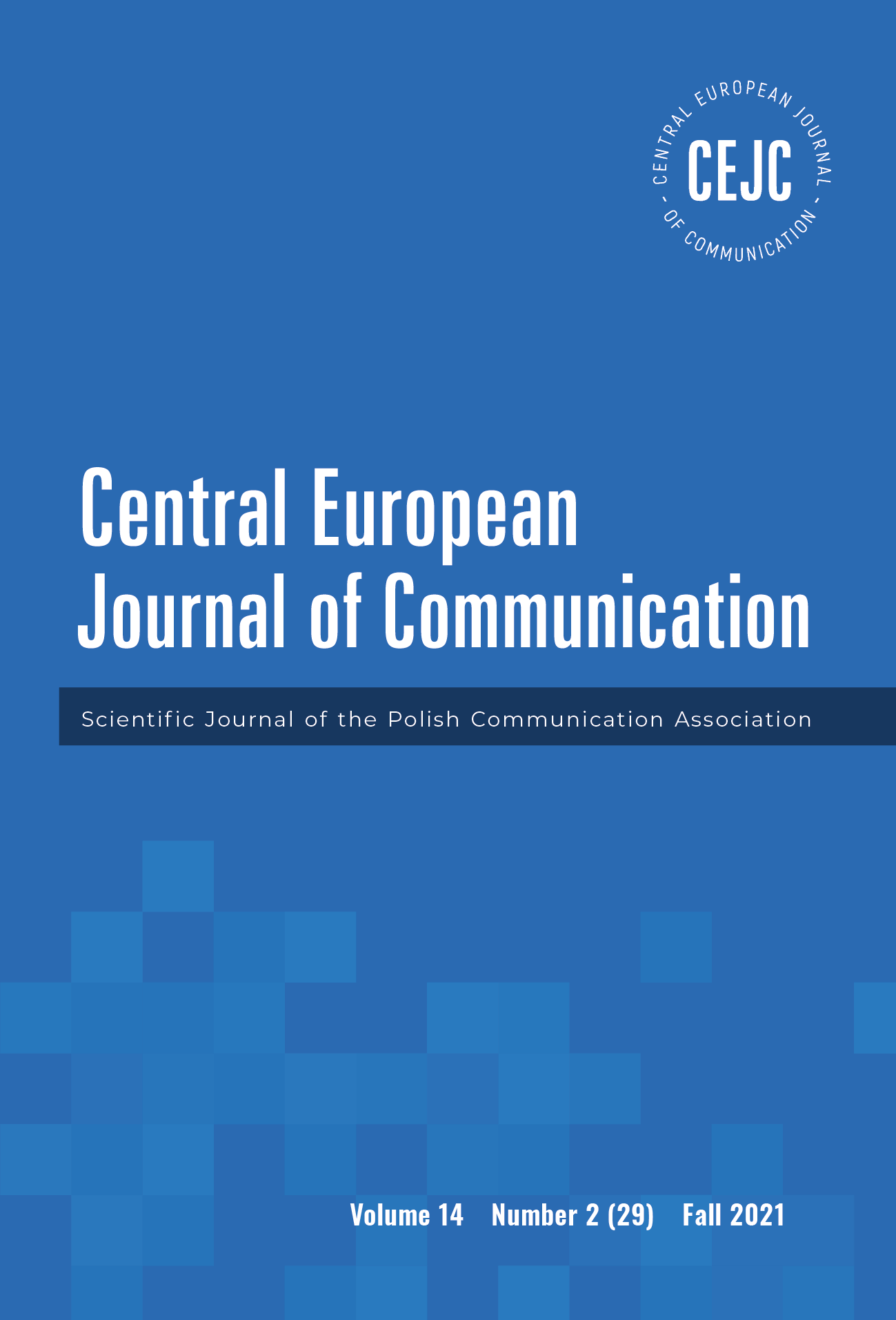 Downloads
How to Cite
Smirnova, O., Lobodanov, A. P. ., Denissova, G. V. ., Gladkova, A. A., Sapunova, O. V., & Svitich, A. L. . (2021). Exploring Visual Culture of COVID-19 Memes: Russian and Chinese Perspectives. Central European Journal of Communication, 14(2(29), 259-286. https://doi.org/10.51480/1899-5101.14.2(29).4
Section
Scientific Papers
License
Copyright (c) 2022 Polish Communication Association
This work is licensed under a Creative Commons Attribution-ShareAlike 4.0 International License.