Design and Development of Mediated Participation for Environmental Governance Transformation: Experiences with Community Art and Visual Problem Appraisal
Keywords:
environmental governance, mediated participation, community art, visual problem appraisal, social imaginaries
Abstract
For environmental governance to be more effective and transformative, it needs to enhance the presence of experimental and innovative approaches for participation. This enhancement requires a transformation of environmental governance, as too often the (public) participation process is set up as a formal obligation in the development of a proposed intervention. This article, in search of alternatives, and in support of this transformation elaborates on spaces where participatory and deliberative governance processes have been deployed. Experiences with two mediated participation methodologies – community art and visual problem appraisal – allow a demonstration of their potential, relevance and attractiveness. Additionally, the article analyzes the challenges that result from the nature of these arts-based methodologies, from the confrontational aspects of voices overlooked in conventional approaches, and from the need to rethink professionals' competences. Considering current environmental urgencies, mediated participation and social imaginaries still demonstrate capacities to open new avenues for action and reflection.
References
Alkemade, F. (2020). De toekomst van Nederland. De kunst van richting te veranderen [The future of the Netherlands. The art of changing direction]. Bussum: Uitgeverij Thoth.
André, P., Enserink, B., Connor, D., & Croal, P. (2006). Public participation international best practice principles. Fargo: International Association for Impact Assessment (IAIA).
Arnstein, S. R. (1969). A ladder of citizen participation. Journal of the American Planning Association, 35(4), 216–224.
Buizer, I. M., & Lata, B. (2021). Using theatre and performance for greater reflexivity in planning and design education. In A. Frank, & A. da Rosa Pires (eds.), Teaching urban and regional planning: innovative pedagogies in practice (pp. 174-187). Cheltenham: Edward Elgar Publishing.
Bulkeley, H., & Castan Broto, V. (2013). Government by experiment? Global cities and the governing of climate change. Transactions of the Institute of British Geographers, 38(3): 361–375.
Carpentier, N., (2017). The discursive-material knot: Cyprus in conflict and community media participation. New York, NY: Peter Lang.
Emerson, K., Nabatchi, T., & Balogh, S. (2012). An integrative framework for collaborative governance. Journal of Public Administration Research and Theory, 22(1), 1–29.
Enserink, B., Hermans, L., Thissen, W., Koppenjan, J., & Kwakkel, J. (2010). Policy analysis of multi-actor systems. The Hague: Lemma.
Fenge, L. A., Hodges, C., & Cutts, W. (2016). Performance poetry as a method to understand disability. Forum Qualitative Sozialforschung / Forum: Qualitative Social Research, 17(2), 1-13.
Ghosh, A. (2016). The great derangement. Climate change and the unthinkable. Chicago: The University of Chicago Press.
Goris, M., Witteveen, L., & Lie, R. (2015). Participatory film-making for social change: Dilemmas in balancing participatory and artistic qualities. Journal of Arts & Communities, 7(1-2), 63–85.
Jørgensen, U. (2012). Mapping and navigating transitions—The multi-level perspective compared with arenas of development. Research Policy, 41(6), 996–1010.
Kellert, S. R., Mehta, J. N., Ebbin, S. A., & Lichtenfeld, L. L. (2000). Community natural resource management: promise, rhetoric, and reality. Society & Natural Resources, 13(8), 705–715.
Klijn, E. H., Koppenjan, J., & Termeer, C. J. A. M. (1995). Managing networks in the public sector: A theoretical study of management strategies in policy networks. Public Administration, 73(3), 437–454.
Krznaric, B. (2020). De goede voorouder. Langetermijndenken voor een kortetermijnwereld [The good ancestor. Long-term thinking for a short-term world]. Utrecht: Uitgeverij Ten Have.
Latour, B. (2020). Het parlement van de dingen. Over Gaia en de representatie van niet-mensen [The parliament of things. On Gaia and the representation of non-humans]. Amsterdam: Boom uitgevers Amsterdam.
Lemos, M. C., & Agrawal, A. (2006). Environmental governance. Annual Review of Environment and Resources, 31, 297–325.
Literat, I. (2012). The work of art in the age of mediated participation: Crowdsourced art and collective creativity. International Journal of Communication, 6, 2962–2984.
Margerum, R. D., & Robinson, C. J. (eds.) (2016). The challenges of collaboration in environmental governance. Barriers and responses. Cheltenham: Edward Elgar publishing.
Molina y Vedia, S. (2008). Silenciamiento y sistemas emergentes autoorganizados [Silencing and emergent self-organizing systems]. Mexico City: Universidad Nacional Autónoma de México (UNAM), Facultad de Ciencias Políticas y Sociales.
Mostert, E. (2003). The challenge of public participation. Water Policy, 5, 179–197.
Panten, K., van Heel, B. F., Fliervoet, J. M., & van den Born, R. J. G. (2018). Cross-border collaboration in river management: Views on participation in a Dutch-German case study. Water Resources Management, 32, 4063–4078.
Reed, M. S. (2008). Stakeholder participation for environmental management: A literature review. Biological conservation, 141(10), 2417–2431.
Rhodes, R. A. W. (2007). Understanding governance: Ten years on. Organization Studies 28(8), 1243–1264.
Rijke, J., Farrelly, M., Brown, R., & Zevenbergen, C. (2013). Configuring transformative governance to enhance resilient urban water systems. Environmental Science & Policy, 25, 62–72.
Rowe, G., & Frewer, L. J. (2005). A typology of public engagement mechanisms. Science, Technology,
& Human Values, 30(2), 251–290.
Stanislavski, C. (1980). An actor prepares. London: Eyre Methuen.
Svasek, M. (2016). Introduction. Creativity and innovation in a world of movement. In M. Svasek & B. Meyer (eds.), Creativity in transition. Politics and aesthetics of cultural production across the globe (pp. 1-32). Oxford and New York: Berghahn.
Taylor, C. (2007). Modern social imaginaries. London: Duke University Press.
Uittenbroek, C. J., Mees, H. L. P., Hegger, D. L. T., & Driessen, P. P. J. (2019). The design of public participation: Who participates, when and how? Insights in climate adaptation planning from the Netherlands. Journal of Environmental Planning and Management, 62(14), 2529–2547.
Willmes, R., & van Wessel, M. (2021). The construction of (non-)responsibility in governance networks. SAGE Open, 11(3). https://doi.org/10.1177/21582440211030620
Witteveen L. M., & den Boer, J. (2019). River Flows – An artistic approach towards community resilience, participation and social learning in natural resources management. In N. Carpentier (ed.), Respublika! Experiments in the performance of participation and democracy (pp. 92-101). Limassol: Neme.
Witteveen, L. M., den Boer, J., & Rijke, J. (2018). Visual problem appraisal Rhine river branches. A film-based learning strategy for sustainable river management. In Y. Huismans, K. D. Berends, I. Niesten & E. Mosselman (eds.), NCR DAYS 2018. The future river (Book of abstracts), (pp. 68-69). NCR conference, 8-9 February, Delft, The Netherlands.
Witteveen, L. M. & Lie, R. (2018). Visual problem appraisal: A learning strategy, which uses filmed narratives. In S. Griffith, K. Carruthers & M. Bliemel (eds.), Visual tools for developing student capacity for cross-disciplinary collaboration, innovation and entrepreneurship capacity (pp. 61-78). Champaign, IL: Common Ground Publishing.
Witteveen, L. M., Enserink, B. & Lie, R. (2009). Mediated participation: Using filmed narratives in complex multi-stakeholder settings. International Journal of Public Participation, 3(1), 32–62.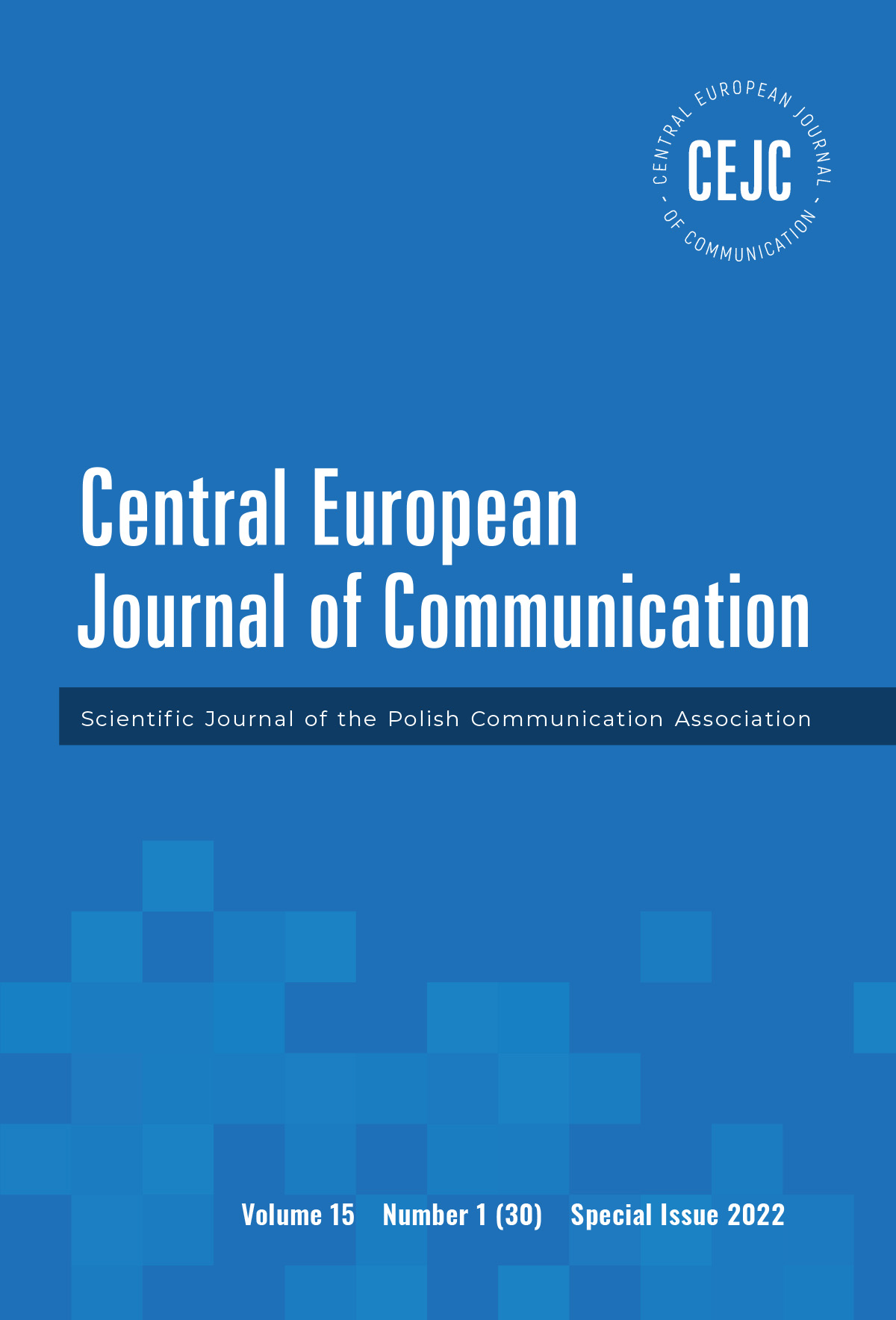 Downloads
How to Cite
Witteveen, L., van Arensbergen, P., & Fliervoet, J. M. (2022). Design and Development of Mediated Participation for Environmental Governance Transformation: Experiences with Community Art and Visual Problem Appraisal. Central European Journal of Communication, 15(1(30), 112-131. https://doi.org/10.51480/1899-5101.15.1(30).6
Section
Scientific Papers
License
Copyright (c) 2022 Polish Communication Association
This work is licensed under a Creative Commons Attribution-ShareAlike 4.0 International License.