The utilization of journalistic sources in the national press: Communicating the transition from economic crisis to sustainable growth
Keywords:
press, journalistic sources, sustainable growth, Cyprus
Abstract
This paper discusses the role and utilization of journalistic sources in the process of communicating the transitional path of a society in crisis towards economic and sustainable growth. It is mainly concerned with the general tendency of the press to display a high degree of manipulation of public opinion by reduction of the diversity of sources and/or their misuse. Cyprus was selected as a case study not only because newspapers still play a dominant role in shaping public opinion in contrast to New Media, but also because sustainable growth has been the basic argument and rhetoric in governmental communication policy, which promoted it as one of the main means in overcoming the ongoing economic/banking crisis the country has been facing since the bailout of the banking sector in 2013. The aim of this research is to examine which categories of journalistic sources shape this topic in the current public sphere and the ways journalists perceive and practice the utilization of their sources. Content analysis has been employed as the basic methodological tool, while a questionnaire survey on journalists of the national press was additionally conducted in order to explain these findings and conclude the study.
References
Bloch-Elkon, Y. (2007). Studying the media, public opinion, and foreign policy in international crises: The United States and the Bosnian Crisis, 1992–1995. The Harvard International Journal of Press/Politics, 12 (4), pp. 20–51.
Byrch, C., Kearins, K., Milne, M., Morgan, R. (2007). Sustainable 'what'? A cognitive approach to understanding sustainable development. Qualitative Research in Accounting & Management, 4(1), pp. 26–52. DOI: 10.1108/SRJ–03-2012-0024.
Charalambous, G. (2014). Political Culture and Behaviour in the Republic of Cyprus during the Crisis, Nicosia: PRIO Publications.
Cuadrado-Ballesteros, B., Frias-Aceituno, J., Martínez-Ferrero, J. (2014). The role of media pressure on the disclosure of sustainability information by local governments. Online Information Re-view, 38 (1), pp. 114–135. DOI: 10.1108/OIR–12-2012-0232.
Curtin, A.P., Rhodenbaugh, E. (2001). Building the news media agenda in the environment: A com-parison of public relations and journalistic sources. Public Relations Review, 27, pp. 179–195.
European Parliament Resolution regarding growth and the media. P6_TA 2006/0360 (INI). (In Greek).
Griffin, J.R., Dunwoody, S. (1995). Impacts of information subsidies and community structure on local press coverage of environmental contamination. Journalism & Mass Communication Quarterly, 72, pp. 271–284.
Herman, E.S., Chomsky, N. (2002). Manufacturing Consent: The Political Economy of the Mass Media. New York: Pantheon.
Hermans, L., Vergeer, M. (2009). Internet in the daily life of journalists: Explaining the use of the Internet by work-related characteristics and professional opinions. Journal of Computer-Medi-ated Communication, 15, pp. 138–157.
International Monetary Fund (IMF) (2014). Annual Report 2014 — From Stabilization to Sustainable Growth. Washington: IMF.
Kollmeyer, J.C. (2004). Corporate interests: How the news media portray the economy. Social Prob-lems, 51 (3), pp. 432–452.
Lacy, S., Coulson, C.D. (2000). Comparative case study: Newspaper source use of the environment-al beat. Newspaper Research Journal, 21 (1), pp. 13–25.
Leandros, N. (2012a). Communication power: The changing role of media in the digital era. Paper presented in International Autumn School Mediterranean Security 2012 on Security in the Mediterranean: Old Conflicts — New Challenges, organized by Panteion University, Aegean University and Neapolis University, Paphos, September 23–30.
Leandros, Ν. (2012b). Οικονομική κρίση και σύγχρονη ανάπτυξη (Financial Crisis and Modern Growth). Athens: Dionikos (In Greek).
Lee, M. (1999). Reporters and bureaucrats: public relations counter-strategies by public administra-tors in an era of media disinterest in government. Public Relations Review, 25 (4), pp. 451–463. Lewis, L.T. (2000). Media representations of 'sustainable development'. Science Communication, 21(3), pp. 244–273.
Maniou, Th. (2013). Τηλεόραση, Κοινωνία & Πολιτικές Ειδήσεις [Television, Society & Political News]. Athens: Epikentro.
Mellado, C., Lagos, C. (2014). Professional roles in news content: Analyzing journalistic performance in the Chilean national press. International Journal of Communication, 8, pp. 2090–2112.
Pawson, R. (1995). Methods of content/document/media analysis. In: Haralambo, M. (ed.). Developments in Sociology. Ormskirk: Causeway Press, pp. 107–128.
PRIO group (ed.) (2010). Media Narratives, Politics and the Cyprus Problem. Nicosia: PRIO Cyprus Centre.
Quinn, S. (1999). Internet availability and adoption at Australian daily newspapers, 1997–99. Communication Research Forum Papers, 2, pp. 319–330.
Stefanou, C. (2011). The banking system in Cyprus: Time to rethink the business model? Cyprus Economic Policy Review, 5 (2), pp. 123–130.
Spiteri, Ζ. (2009). Ο Δημοσιογράφος και οι Εξουσίες του [Journalist and His Authorities]. Athens: Kastaniotis.
The G20 Toronto Summit Declaration (2010, June 26–27). Toronto (press release).
Trumbo, C.W., Sprecker, K.J., Dumlao, R.J., Yun, G.W., Duke, S. (2001). Use of e-mail and the web by science writers. Science Communication, 22 (4), pp. 347–378.
Wilenius, M., Malmelin, N. (2009). Towards sustainably managed media organizations: Reflections on the future of responsible business in media industry. Business Strategy Series, 10 (3), pp. 129– 138.
Witschge, Τ., Nygren, G. (2009). Journalism: A profession under pressure? Journal of Business Studies, 6 (1), pp. 37–59.
Witt, W. (1974). The environmental reporter on US daily newspapers. Journalism Quarterly, 51, pp. 697–704.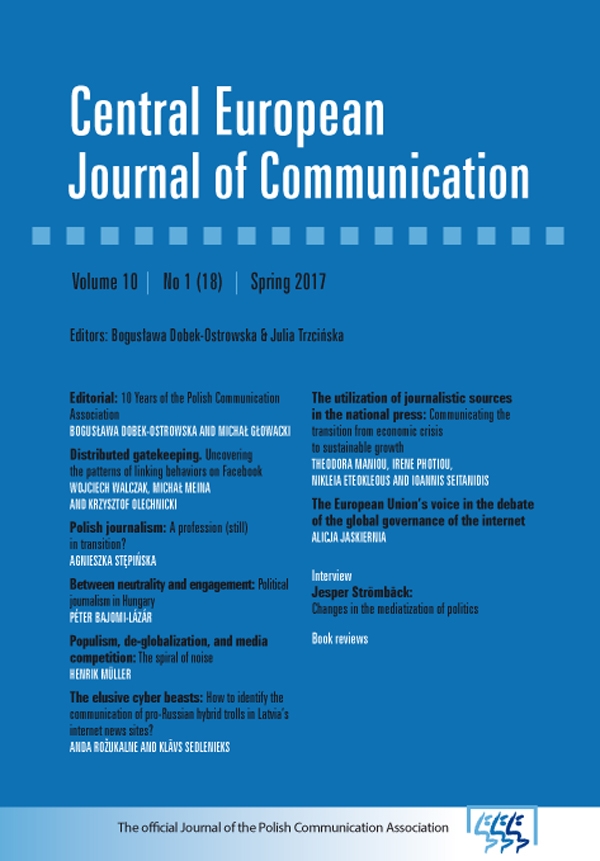 Downloads
How to Cite
Maniou, T., Photiou, I., Eteokleous, N. ., & Seitanidis, I. (2017). The utilization of journalistic sources in the national press: Communicating the transition from economic crisis to sustainable growth . Central European Journal of Communication, 10(1(18), 98-113. https://doi.org/10.19195/1899-5101.10.1(18).7
Section
Scientific Papers
License
Copyright (c) 2020 Polish Communication Association
This work is licensed under a Creative Commons Attribution-ShareAlike 4.0 International License.