Decoding Media Impact and Datafication in Diverse Cultural Media Contexts
Editors' Introduction
Keywords:
Media Impact, AI, Datafication, Media Cultures
References
Couldry, N. (2020). Recovering critique in an age of datafication. New, Media & Society, 22(7), 1135–1151.
Fisher, E., & Mehozay, Y. (2019). How algorithms see their audience: Media epistemes and the chan­ging conception of individual. Media, Culture & Society, 4(18), 1176–1191.
Haenlein, M., Huan, M.-H., & Kaplan, A. (2022). Guest editorial: Business ethics in the era of artificial intelligence. Journal of Business Ethics, 178(4), 867–869.
John-Mathews, J.-M., Cardon, D., & Balagué, C. (2022). From Reality to World. A Critical Perspective on AI Fairness. Journal of Business Ethics, 178(4), 945–959.
Lomborg, S., Dencik, L., & Moe, H. (2020). Methods for datafication, datafication of methods: Introduction to the Special Issue. European Journal of Communication, 35(3) 203-212.
Methieu, D. & Jorge, A. (2020). The datafication of Media (and) Audiences. MedieKultur, 36(69), 1-10.
Møller Hartley, J., Sørensen, J., & Mathieu, D. (eds.). The Construction of Publics in Datafied Democracies. Bristol University Press.
Porlezza, C. (2023). Promoting responsible AI: A European perspective on the governance of artificial intelligence in media and journalism. Communications, 48(3), 370–394.
Trattner, C., Jannach, D., Motta, E., Costera Meijer, I., Diakopoulos, N., Elahi, M., Opdahl, A., Tessem, B., Borch, N., Fjeld, M., Øvrelid, L., De Smedt, K., & Moe, H. (2022). Responsible media technology and AI: Challenges and research directions. AI and Ethics, 2(4), 585–594.
Walsh, J. P. (1995). Managerial and organizational cognition: Notes from a trip down Memory Lane. Organization Science, 6(3), 280–321.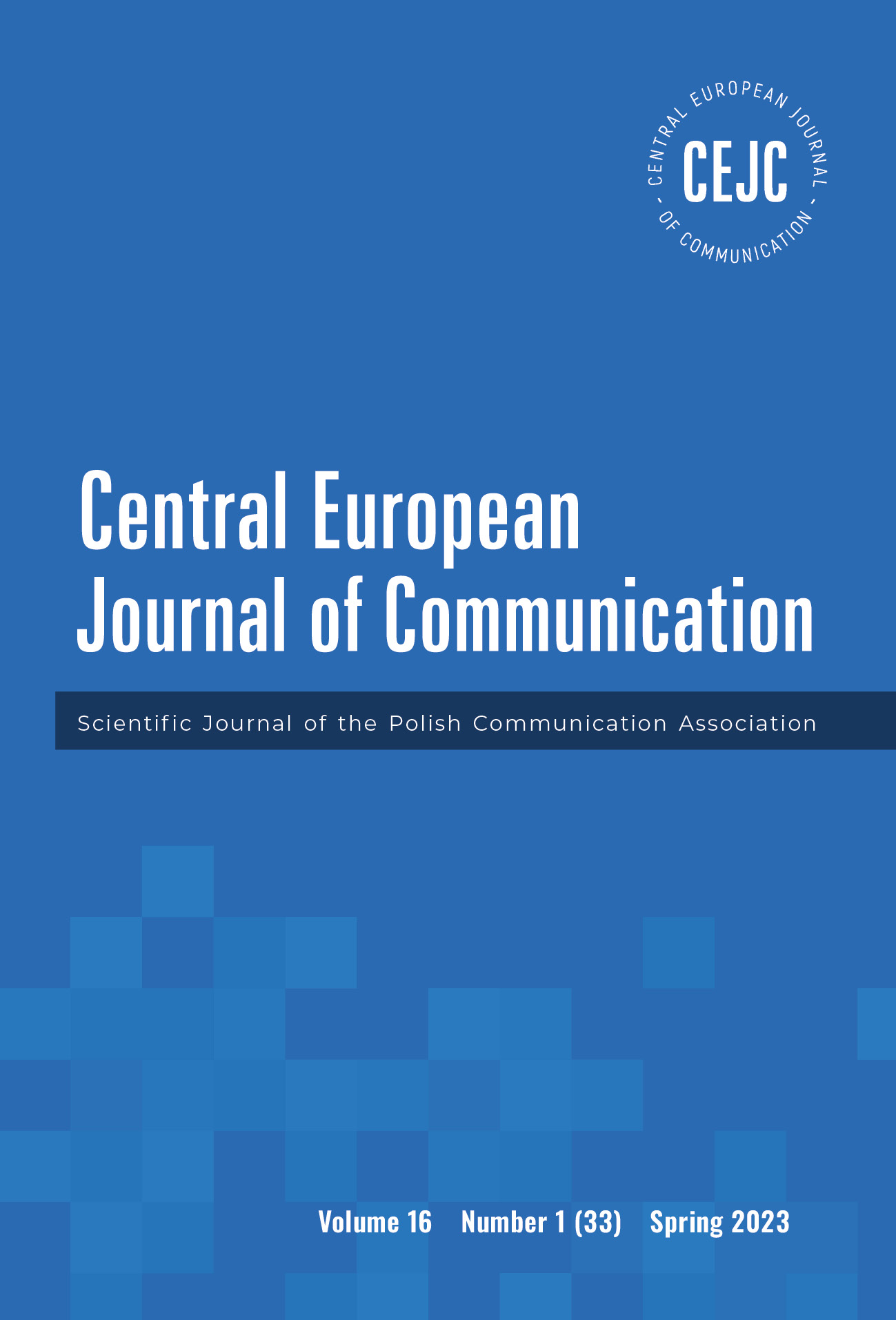 Downloads
How to Cite
Głowacki, M., & Maijanen, P. (2023). Decoding Media Impact and Datafication in Diverse Cultural Media Contexts: Editors' Introduction. Central European Journal of Communication, 16(1(33), 2-6. https://doi.org/10.51480/1899-5101.16.1(33).0
License
Copyright (c) 2023 Polish Communication Association
This work is licensed under a Creative Commons Attribution-ShareAlike 4.0 International License.