The elusive cyber beasts: How to identify the communication of pro-Russian hybrid trolls in Latvia's internet news sites?
Keywords:
Internet trolls, hybrid trolling, Internet users' comments, news sites, Latvia
Abstract
The research described here was performed on the background of the geopolitical fluctuations in Eastern Europe and the annexation of Crimea by Russia. These events caused fear of pro-Russian propaganda particularly in the so-called Internet hybrid-trolls, i.e., commentators who are on the payroll of Russian state agencies who disrupt internet discussion boards with massive pro-Russian information and opinions. This paper describes methodology of identifying possible hybrid-trolls, data gathering from the biggest Latvian online news sites delfi.lv, apollo.lv, tvnet.lv that provide information in Latvian and Russian language, and analysis of the data by means of quantitative analysis as well as qualitative, that included content analysis and a case study. The analysis shows that the presence of pro-Russian hybrid trolls is inconclusive. However, following the outlined methodology some cases were recorded. Quantitative as well as qualitative analyses demonstrate that the overall presence and exposure of the alleged trolls in the given period was insignificant and the influence of trolls on public opinion highly questionable.
References
Aliaksandrau, A. (2014). Brave new war. The information war between Russia and Ukraine. Index on Censorship, 43 (4), pp. 56–60.
Benkler, Y. (2006). The Wealth of Networks: How Social Production Transforms Markets and Freedom. New Haven, CT: Yale University Press.
Binns, A. (2012). Don't feed the trolls! Journalism Practice, 6 (4), pp. 547–562.
Buckels, E.E., Trapnell, P.D., Paulhus, D.L. (2014). Trolls just want to have fun. Personality and In-dividual Differences. Retrieved August 11, 2016 from http://dx.doi.org/10.1016/j.paid.2014.01.016.
Bugorkova, O. (2015, March 19). Ukraine conflict: Inside Russia's 'Kremlin troll army'. BBC. Retrieved July 16, 2016 from http://www.bbc.com/news/world-europe-31962644.
Castells, M. (1999). The Rise of the Network Society. The Information Age: Economy, Society, and Culture, vol. 1. New Yersey: Blackwell Publishing.
Castells, M. (2009). Communication Power. Oxford: Oxford University Press.
Cheung, C.M., Thadani, D.R. (2012). The impact of electronic word-of-mouth communication: A lit-erature analysis and integrative model. Decision Support Systems, 54 (1), pp. 461–470.
Dahlberg, L. (2001). The Internet and democratic discourse. Exploring the prospects of online de-liberative forums extending the public sphere. Information, Communication & Society, 4 (4), 615–633. Retrieved August 14, 2016 from http://epphenicie.iweb.bsu.edu/5820550.pdf.
Donath, J.S. (1999). Identity and deception in the virtual community. In: Smith. M.A., Kollock, P. (eds.). Communities in Cyberspace. London, UK: Routledge, pp. 27–58.
Ellcessor, E. (2016). Cyborg hoaxes: Disability, deception, and critical studies of digital media. New Media & Society, 18 (10), pp. 1–17. DOI: 10.1177/1461444816642754.
Hermant, N. (2015, August 13). Inside Russia's troll factory: Controlling debate and stifling dissent in internet forums and social media. ABC. Retrieved July 17, 2016 from http://www.abc.net.au/ news/2015-08-12/inside-russia's-troll-factory-internet-forums-social-media/6692318.
Hwang, T., Xu C. (2014). 'Lurk more': An interview with the Founders of ROFLCon Tim and Chris-tina Xu. Journal of Visual Culture, 13 (3), pp. 376–387.
Isin, E.F., Nielsen, G.M. (2008). Acts of Citizenship. London, UK: Zed Books.
Jenkins, H. (2006). Convergence Culture: Where Old and New Media Collide. New York: New York University Press.
Kiousis, S. (2002). Interactivity: A concept explication. New Media & Society, 14 (3), pp. 355–383. LSM (2012). Pētījumā noskaidrots sociālo tīklu lietojums Latvijā [The study shows the use of social networks in Latvia]. Retrieved November 6, 2016 from http://www.lsm.lv/lv/raksts/latvija/zinas/ petiijuma-noskaidrots-socialo-tiiklu-lietojums-latvija.a27372/.
MacKinnon R., Zuckerman E. (2012). Don't feed the trolls. Index On Censorship, 41 (4), pp. 14–24. McCosker, A. (2014). Trolling as provocation: YouTube's agonistic publics. Convergence: The International Journal of Research into New Media Technologies, 20 (2), pp. 201–217. McCuen, J.J. (2008, March–April). Hybrid wars. Military Review, p. 108.
McQuail, D. (2010). McQuails' Mass Communication Theory, 6th ed. London: SAGE Publications.
Mouffe, C. (2000). For an agonistic model of democracy. In: O'Sullivan, N. (ed.). Political Theory in Transition. London, UK: Routledge, pp. 113–132.
Nissen, T.E. (2015). The Weaponization of Social Media — Characteristics of Contemporary Conflicts. Copenhagen: Royal Danish Defence College.
Nissenbaum, A., Shifman, L. (2015). Internet memes as contested cultural capital: The case of 4chan's /b/ board. New Media & Society, 17 (10), pp. 1–19.
Phillips, W. (2015). This is why we can't have nice things: Mapping the Relationship between Online Trolling and Mainstream Culture. Cambridge, MA: MIT Press.
Powers, D. (2015). First! Cultural circulation in the age of recursivity. New Media & Society, 17 (8), pp. 1–16.
Reagle, J. (2016). The obligation to know: From FAQ to feminism. New Media & Society, 18 (5), pp. 691–707.
Robertson, V. (2014). Of ponies and men: My Little Pony: Friendship is Magic and the Brony fandom. International Journal of Cultural Studies, 17 (1), pp. 21–37.
Ruths, D., Pfeffer, J. (2014). Social media for large studies of behaviour. Science, 346 (6213), pp. 1063– 1064.
Sindelar, D. (2014, August 12). The Kremlin's trolls army. The Atlantic. Retrieved July 16, 2016 from http://www.theatlantic.com/international/archive/2014/08/the-kremlins-troll-army/375932/.
Sohn, D., Choi, S.M. (2014). Measuring expected interactivity: Scale development and validation. New Media & Society, 16 (5), pp. 856–870.
Stryker, C. (2011). Epic Win for Anonymous: How 4Chan's Army Conquered the Web. New York: Overlook Duckworth.
TNS Latvia (2013/2014). Media research yearbook of TNS Latvia. Retrieved August 29, 2016 from http://www.tns.lv/wwwtnslv_resources/images/Mediju_petijumu_gadagramata/TNS_Latvia_ mediju_petijumu_gadagramata_2013-2014.pdf.
Walker, S. (2015, April 2). Salutin' Putin: Inside a Russian troll house. The Guardian. Retrieved July 17, 2016 from https://www.theguardian.com/world/2015/apr/02/putin-kremlin-inside-russian-troll-house.
Weichert, S. (2016, January–March). From swarm intelligence to swarm malice: An appeal. Social Media + Society, pp. 1–7.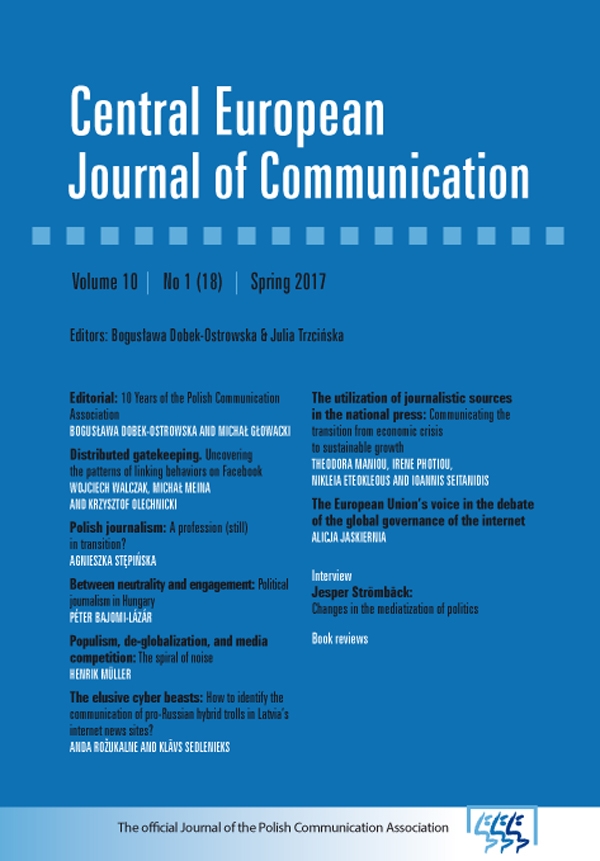 Downloads
How to Cite
Rožukalne, A., & Sedlenieks, K. (2017). The elusive cyber beasts: How to identify the communication of pro-Russian hybrid trolls in Latvia's internet news sites?. Central European Journal of Communication, 10(1(18), 79-97. https://doi.org/10.19195/1899-5101.10.1(18).6
Section
Scientific Papers
License
Copyright (c) 2020 Polish Communication Association
This work is licensed under a Creative Commons Attribution-ShareAlike 4.0 International License.