Multimedia and Digital Technology in Distance Learning of Music During the COVID-19 Pandemic
Keywords:
multimedia in education, music education online, school in pandemic, digital technology in music
Abstract
The state of an epidemic introduced in the spring of 2020 in connection with the COVID-19 pandemic has changed all education to distance learning. Music lessons became a challenge for the music teachers who needed to become more creative and innovative while preparing classes and teaching materials or stimulating musical activities of their students. The paper contains conclusions from the study of the following areas: (1) the implementation of the curriculum content, (2) the use of digital tools and software, and (3) the digital competencies of twelve music teachers from the Greater Poland Voivodeship who conducted online lessons in public general education schools during the COVID-19 pandemic.
References
Andrys, M. (2020). Mediatyzacja edukacji muzycznej w kontekście strategii kształcenia wyprzedzającego. Com.press, 3 (1), 44–53.
Bell-Robertson, G. (2014). "Staying on Our Feet": Novice Music Teachers' Sharing of Emotions and Experiences within an Online Community. Journal of Research in Music Education 61, no. 4. 431–51.
Buchner, A., Wierzbicka, M. (2020). Edukacja zdalna w czasie pandemii. Raport. Edycja II. Warszawa: Fundacja Centrum Cyfrowe. Pobrane z: https://centrumcyfrowe.pl/wp-content/uploads/sites/16/2020/11/Raport_Edukacja-zdalna-w-czasie-pandemii.-Edycja-II.pdf [dostęp: 04.08.2022].
Dylak, S. (2015). Kształcenie wyprzedzające jako obiecujący model edukacyjny epoki smartfona (s. 65–75). W: Pyżalski, J. (red.), Wychowawcze i społeczno-kulturowe kompetencje współczesnych nauczycieli, Łódź: theQ studio
Gall, MRY., Sammer, G. de Vugt, A. (2012). European Perspectives on Music Education: New media in the classroom. Innsbruck: Helbling Verlagsgesellschaft mbH.
Kratus, J. (2007). Music Education at the Tipping Point. Music Educators Journal 94, no. 2. 42–48.
Łobocki, M. (2000). Metody i techniki badań pedagogicznych. Kraków: Oficyna Wydawnicza "Impuls".
Odya, B. (2005), Realizacja przedmiotu "muzyka" w szkolnych pracowniach komputerowych. W: Markiewicz, L. (red.), Muzyka w szkole XXI wieku. Tradycja i współczesność (s. 214–223). Katowice: Akademia Muzyczna im. Karola Szymanowskiego.
Parkita, E. (2012). Kompetencje medialne nauczyciela muzyki a wymagania współczesności. Studia Pedagogiczne – problemy społeczne, edukacyjne i artystyczne 21, 35–48.
Parkita, E. (2016). Technologie informacyjno-komunikacyjne w edukacji muzycznej XXI wieku, Muzyka Historia Teoria Edukacja nr 6, 34–44.
Pilch, T. (1995), Zasady badań pedagogicznych. Warszawa: Wydawnictwo Żak.
Savage, J. (2011). Tom's Story: Developing Music Education with Technology. Journal of Music, Technology and Education 4, no. 2 and 3. 217–226.
Soszyński, P. (2014). Kompetencje informatyczne nauczycieli muzyki. Stan postulowany i rzeczywisty. Łódź: Wydawnictwo Uniwersytetu Łódzkiego.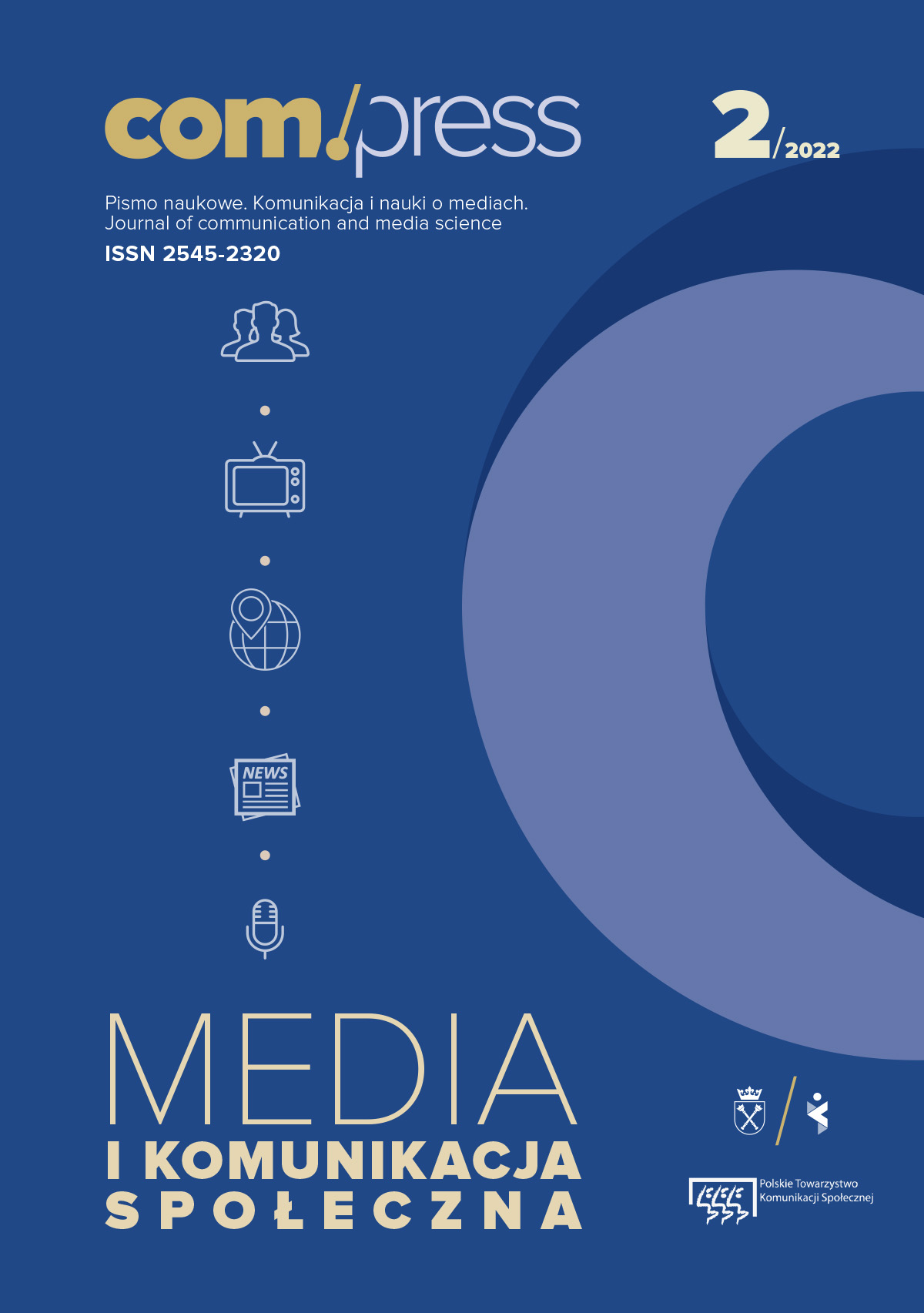 Downloads
How to Cite
Andrys, M. (2022). Multimedia and Digital Technology in Distance Learning of Music During the COVID-19 Pandemic. Com.Press, 5(2), 6-19. https://doi.org/10.51480/compress.2022.5-2.479
License
Copyright (c) 2022 Polish Communication Association
This work is licensed under a Creative Commons Attribution-ShareAlike 4.0 International License.
Content of the articles is licensed under a Creative Commons Attribution 4.0 International license