Polish journalism: A profession still in transition?
Keywords:
journalists, Poland, proffessional roles, proffesional standards, students, transition, proffesional values
Abstract
This paper aims at presenting the conclusions drawn from a systematic review of the studies conducted among Polish journalists since the 1970s. By comparing results of the studies on journalists with expectations and attitudes of current Polish journalism students, the paper offers an insight into the ongoing changes that have been observed among Polish journalists in the last four decades. In particular, the review revealed significant changes in a demographic profile of Polish journalists regarding gender, education, and employment, as well as their motivation to work in the profession. Furthermore, professional values of journalism in Poland have been slightly shifting from a traditional profile of a social educator and watchdog to new ones, such as a news provider.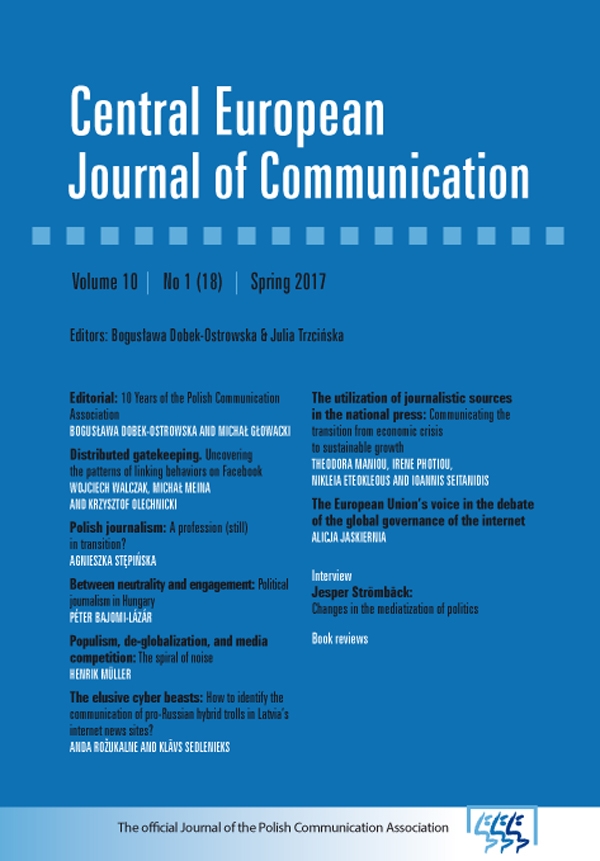 Downloads
How to Cite
Stępińska, A. (2017). Polish journalism: A profession still in transition? . Central European Journal of Communication, 10(1(18), 32-47. https://doi.org/10.19195/1899-5101.10.1(18).3
Section
Scientific Papers
License
Copyright (c) 2020 Polish Communication Association
This work is licensed under a Creative Commons Attribution-ShareAlike 4.0 International License.